Walkable Patio Roofing
For customers that may have the desire to have a livable / walkable patio space that is also a rooftop, we recommend a Mulehide product called Dec-Tec. It has many colors and patterns to choose from, and will stand the test of time as you put furniture, and people on your roof top patio or deck.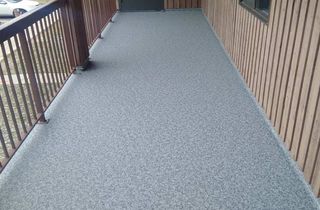 PROS:
Walkable Surface
Multiple Patters / Color Options
Slip resistant
Cool surface
Commercial grade membrane
20 Year Warranty available
Low Maintenance
CONS:
Expensive
Skilled labor install

Our Preferred Brand of Walkable Patio RoofingDec-Tec is our preferred vendor for walkable patio roofing.